Last update :10/01/2010
1. The country
New Caledonia is a French territory situated in the South Pacific, East of Australia, North-West of New-Zealand (about 400 km long, and 70 Km wide).
New Caledonia is surrounded by a great barrier reef creating the second largest lagoon in the world. This offers a lot of diversity such as : Scuba diving, spear gun fishing, deep sea fishing...
It is a tropical island with nice weather all year round. The trade winds provided a constant nice breeze.
Half of the population is Melanesian living in tribal environment. The second half is mixed (European, Vietnamise, Indonesian, Polynesian). The Melanesians are very friendly with a rich culture (traditional dancing, arts...)
2. The Rusa Deer
The Rusa Deer was introduced in New Caledonia about 100 yearsago, originating from Indonesia. Currently we have a huge deer population estimated at 250 000.

In New Caledonia, The Rusa deer grows very long and heavy antlers.
In 1997 all the deers that our hunting clients shot were in excess of 31.5 inches long. The longest was 38 inches and the average 33.6 inches long.
The best hunting period is during the rut (from mid july to mid August), which is our winterr season : fresh night 10°C or 50 °F with days temperature 18 - 20 °C (or 64 - 68 °F).
3. The hunt

We can organize hunts from beginning of july till november. A typical day hunt is : wake up one hour before sunshine, have a nice french breakfast, and drive to the hunting area (usualy on the top of a hill from where we will be able to do somme glassing to find the big stag.

 

There are numerous deer in New Caledonia, so it is quiet common to see in between 200 and 400 deers in a day.

Rut is in between mid-july to end of september, so it is the best periode to hunt stags that are usualy hidden all the rest of the year because of their nocturnal life. Rusa Hunting is open all year round, but the stags lose their antlers in the end of the year, and the next antlers will be completly developped around end of june.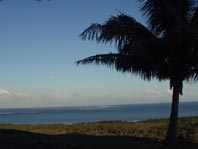 New caledoniais very pretty with the multicolor lagoon as a background, coconut trees, and all thoses Rusa stags roaring and fighting for does is a magnificiant show.
Once the stag has been choosen by the hunter, a stalk will have to be done. So a relatively good health condition is necessary because this stalk can last long (some hours), and are quiet hard because of numerous does and young stags around.
If the stalk is successful, the shot may be in between 60 and 200 yards. If not, most of the deers go back in the bushes and will come out only around 5:00 PM. It's time to go back to the camp, with nice bungalows, hot showers, and toilets.
After a nice lunch, it's time for siesta (tropical country...). And we go back hunting around 4:00 PM
The hunt last 5 days. There is no limit on the number of trophy. So far, all stags bagged made the SCI Records Book. Daniel and his son (Nicolas), are SCI masters measurer, and can certify trophies. It is possible also to shoot young stags, does, turkeys and wild pigs for smaller fees.
4. After the hunt
Some hunters prefer to hunt only one trophy, and leave the hunt area earlier in the purpose to enjouy the rest of the journey sightseeing, snorkling, lie on the beach...